Joined

May 11, 2018
Messages

322
Likes

299
Location
I've never been this obsessed with a show in my life. Even when I'm fawning over another show,
SpongeBob SquarePants
just kinda sets on the proverbial back burner. I can always come back to it. I hardly get tired of it, and when I do, it doesn't mean I'm dropping it forever (like I've done with some of my obsessions in the past). As long as this show keeps providing more content (movies, spin-offs, etc.), I'll
still
be watching it. And even when the SpongeBob hype seems to die down for good in who knows how many years from now, he will always be my baby.
I don't quite understand it. I mean, I do, but it's hard to explain. I've grown so attached to a show about a talking sponge. I've fallen in love with a show that my parents never really wanted me watching to begin with. (Now that I'm older it doesn't really phase them.) I've dedicated
hours
of my life to loving this show.
I can't say I regret it. Because I don't.
HAPPY 21st ANNIVERSARY, SPONGEBOB SQUAREPANTS!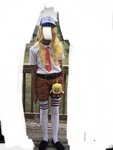 I love the show and the character so much that I even cosplayed as him.
I also made a short tribute:
I am not ashamed to be a SpongeBob fan, and I try not to be ashamed with my obsession... But some people ridicule me for it, or make snide remarks.
I'm an open SpongeBob fangirl at my high school, and a few of the kids were like, "So you really still watch SpongeBob?" like that's some sort of taboo thing. Like, damn. I just shake my head.
Sure, maybe being a fan of this show makes me seem juvenile or stupid, but I don't give a
barnacle
. This is my favorite show!! No embarrassment is gonna come between that.