6-11-2004
posted by
SuperSponge
I was hoping to update with capsules and other stuff but my connection went all loopity loop on me so I'm at church updating this. I'll be out tomorrow so Spongey34 will update for me.
6-10-2004
posted by
SuperSponge
First of all let me say that SBMania put up a new forum link/picture. It's not a Spongebob forum, it's a Harry Potter forum for all you fans. Click the image in the links page to visit it.

Next on the list, I have fixed all the pages EXCEPT the 'S' pages but they will be done tomorrow.

Finally, I will add character pictures and capsules tomorrow. A lot of capsules tomorrow. There may even been some transcripts being uploaded also.
6-09-2004
posted by
SuperSponge
New movie trailer has arrived! This one is pretty funny and exciting. If you want to view thr trailer, click here. I also added a new poll about which trailer you like best. You can vote by clicking here.
6-08-2004
posted by
SuperSponge
DVD/VHS Sales are in for the week of May 31 - June 6. Spongebob only got one VHS Sale: Spongebob Goes Prehistoric in at #5
6-07-2004
posted by
SuperSponge
If you missed the Spongebob marathon today, it will be back next Monday. I added Patrick pictures and also I am gradually fixing the links to the pages. I'll be putting another poll up soon I think.
6-06-2004
posted by
SuperSponge
Happy Birthday SBMania! It's been 1 year to this day that I started back in 2003. I know it may not be like much but I consider that an accomplishment. This site has been through some ups and downs especially with this site being up all the time when I switched hosts for 2 weeks.

Updates/News:
1)New picture pages for Spongebob, Patrick, and Miscellaneous! I'll be adding more picture every day to the other pages so don't worry. I got plenty =)
2)The polls page is finally fixed. There's also a new poll which asks what there should be more of in year 2 of SBM
3)Weekly Schedule is up and Mermaidman 5 isn't showing but the rest are so watch out
4)Spongebob's Monday summer marathon has returned! It's starts tomorrow at 1:00/12:00central
5)Earlier this week I told you about the Spongebob font. Well, you have to download it just to view it. You can download it here
6)Not many new capsules this past week but I did add Idiot Box, The Camping Episode, and Help Wanted pictures
7)I will be adding new characters soon, hopfully by Wednesday
8)I'm adding more movie things into the mix this week
9)If you noticed that you couldn't get to the quotes page, they are fixed now but Patirck's page has no quotes yet
10)TRANSCRIPTS AHOY! Thanks to Spongey34, he saved a load of transcripts from season 1 and 3. Let's all email him and flood it to thank him =)
11)Character of the month is Squidward's mom and the episode of the month is Born Again Krabs. If you want to vote, just email me
12)The video clips page will be up and running soon because I will be able to make videos myself. I'll put up links to them soon
13)I am making a level 2 & 3 quiz so that should be up by Friday
14)5 months and 13 days till the movie premieres! I'll be the first one in line on the first day in the first show to see it =)
15)I added more songs and pictures to the songs so feel free to look around
16)New buttons and banners thanks to Spongey34! I think those are wicked cool! May I say coral or is that out of style?

I want to thank ya'll for visiting my site for the past year and I'll try my best to stretch out 2 years! Thank you again!
6-05-2004
posted by
SuperSponge
Tomorrow will begin the 2nd year of sbmania! I'll have a lot of updates tomorrow. I added the Spongebob font to some character pages for now. I may even change a little stuff.
6-04-2004
posted by
SuperSponge
I've added a few more capsules to the site. Also, 2 more days till the 1 year hits! Finally, I got a new font uploaded. It's the Spongebob font! Take a look at some pages and you'll see it.
6-03-2004
posted by
SuperSponge
The TV ratings are in for the week of May 24 - May 30. Spongebob only made it once at #11 with 2.98 million. Once the NBA Finals are over...Spongebob will most likely be in there 2 or 3 times.
6-02-2004
posted by
SuperSponge
The DVD/VHS sales are in for the week of May 24- May 30! 2 of Spongebob's VHS rentals are still in the top 10: SeaScape Capers at #6 and Spongebob Goes Prehistoric at #7.
6-01-2004
posted by
SuperSponge
SpongeGuard on Duty is finally out! Click on the DVD picture on the right to buy it at amazon.com! There are eight episodes on this DVD: SpongeGuard on Duty, Naughty Nautical Neighbors, Walking Small, Pressure, Jellyfish Hunter, Nasty Patty, Doing Time, and Clams. Thanks to SpongeBuddy, they found this review about the DVD. Click here.
Quote of the Month
What would we do without Squidward?

Spongebob - "Fools In April".
Newest DVD Available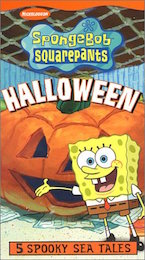 [Link To Us]