CherrySponge
Member Since 23 Jan 2017
Offline
Last Active 20 minutes ago
About Me
Hello, everyone! In case some of you don't know, I updated this page long ago. The content is quite different than when I first joined. I hope that's okay.
I first joined at the beginning of 2017, where I was nervous and wasn't sure what to do with my profile, how to post, yadda yadda yadda. But now look how many months have gone by since then! I've really grown as a member.
Anyway, I'm quite a keen traveller, though only to places in my own country. That doesn't necessarily mean I'll never go on a plane ever again, though.
I also love watching evening TV. Morning? Don't care much. But in the evening? YES! I'm normally very eager to catch up with my favourite evening programmes, and on a Saturday, there are many goodies out there, mainly for entertainment. Some of my favourite shows include We Bare Bears, My Little Pony: Friendship is Magic & obviously SpongeBob. I also enjoy watching the odd episode of Friends (but never fear, I still like it as much as ever, and if you're a fan as well be sure to drop by!

)
I don't think I'm THAT interesting a person but I know for sure that I can start good enough conversations. And I do have quite a few friends on here, so...
Onto the topic of SB (because that's what the site's made for, duh?)




I LOVE SONGS! And SpongeBob ones are no exception. Goofy Goober Rock - a firm favourite.

I love Squidward as well. I keep telling myself I'm not obsessed with him, although I am obsessed with his attitude sometimes because it's so relatable.
Some avatars for you - have given up actually uploading them so I'm sorry about that

January 23 - January 25 '17

http://vignette2.wik...=20120512030332

January 26 - February 05 '17




February 05 - February 19 '17




February 19 - March 03 '17




March 03 - March 26 '17


March 26 - April 16 '17 Gotta catch 'em all
April 16 - May 12 '17
May 12 - June 02 '17
June 02 - June 12 '17
June 12 - June 18 '17
June 18 - Sometime at the middle/end of July '17
The middle/end of July - August 15 '17 (this is as close to the image as I can get as the exact one seems to have gone)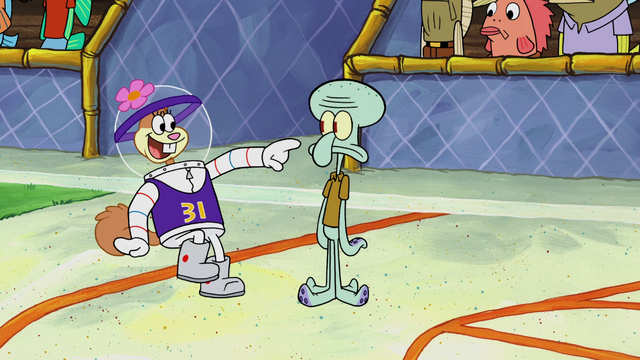 August 15 - ???
I love many quotes from this wonderful show. But while this show is so great I have other favourites...
Friends
Favorite character: CHANDLER. BING.
Favorite episode: Okay, seriously? You want me to choose? Okay, any episode where Phoebe sings Smelly Cat, Joey fails at an acting role or when Rachel cheats on Ross.
My Little Pony: Friendship is Magic
Favorite character: Pinkie Pie
Favorite episode: I have watched Rarity Takes Manehattan from Season 4 and fallen in love with it. Also thought it was a Merriwether Williams episode which it...wasn't.
Favorite song: We'll Make Our Mark, any Sirens song, Open Up Your Eyes/Rainbow (from that movie)
We Bare Bears
Don't have a big knowledge of it but I love Ice Bear and his bros. Also the episodes Chloe and Jean Jacket are hilarious.
Squilliam approving of my profile (just because I am one of his adoring fans):
---
Community Stats
Group

Members

Active Posts

288

Profile Views

1628

Member Title

Completely Spongy!

Age

14 years old

Birthday

December 5, 2002

Gender

Female

Location

Could be Central Perk or Bikini Bottom. Depends on how I feel.
Previous Fields
Favorite Character

Squidward

Favorite Episode

Sassy SpongeBob episodes and Sharks vs Pods

Favorite Quote

So many but 'I DEFY YOU, HEART-MAN!'

How did you find this board?

Search Engine (Google, Yahoo!, etc.)
Viewing Profile: CherrySponge