Joined

Feb 28, 2018
Messages

75
Location
Hello everyone, so today instead of harassing everyone asking for their opinions on SpongeBob with failed games I kept changing, I'll post some of my own. These are my five most underrated episodes per season. Before anyone asks (assuming anyone cares), I haven't seen Season 9 in it's entirety nor seasons 10 or any of 11. I have always ranked and rated episodes but never reviewed them with words and stuff so don't expect too beautiful of reviews.
Season 1
#5
Episode-Jellyfishing
Episode-3a
Premiered-7/31/1999
To be fair a lot of people love this episode but a lot don't for the Squidward abuse in the episode. I also don't really hear the episode talked about a lot either so I don't know current feelings on it. I use to also overlook this episode for the Squidward abuse aswell but once I realized how much humor is in it for the third episode of the series and how the Squidward abuse is actually funny instead of annoying this episode I really became a fan of it. This is also the episode that debuted Jellyfishing as a major part of SpongeBob (simple title). Something that really shows how great this show is is that this is probably around my 135th favorite episode yet there's so many memorable moments. The opening scene, Squidward's sarcasm and then subsequent encounter with the jellyfish, Squidward's return, the actual jellyfishing itself, and of course FIRMLY GRASP IT! S&P heavily abused Squidward but it was so funny to watch and done so innocently that you really couldn't take points away for it. All in all I think it's a great episode but there's just 135ish better than it and the abuse from the big jellyfish at the end was undeserved but the ending was pretty funny despite that.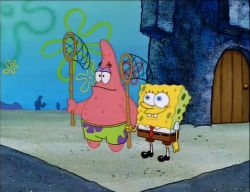 ​