Member
95 posts
$176 doubloons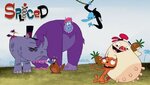 Spliced is a animated TV series which aired on Teletoon from September 19 2009 to March 13 2010.
The show is a modern take on "The Island of Dr. Moreau, revolving around Peri (Half Cat, Half IDK) and Entree (Half Cow, Half Chicken.) living on a island named "Keep Away Island" along with their other animal friends.
The show was very short lived and only lasted one season.
The show started to air in the United States on Qubo until the network dropped it on March 31 2012
The show moved to the CN website (Reason for the CN prefix) in 2014 before getting removed in 2015.
It's unknown if the show will air again or get a DVD release.
What are your opinions on your show? Is it good? Is it bad? Is it just okay?
Note: Some of you might not know what it is.
Last edited: