Joined

Nov 7, 2020
Messages

14
Likes

23
So as we all know, Spongebob has had a pretty bumpy ride over the years. The general consensus for a long time was that the first 3 seasons were the classics, and that after their first movie, Spongebob started to slip in quality. After the second movie, Sponge Out of Water, more seasons came out, and people's opinions started to differ more and more. While some people still believe the first 3 (maybe 4) seasons were the only truly good seasons, a lot of folks have started to take a second look at the Post-Movie era and realize that it has many good episodes throughout, and that most episodes weren't quite nearly as awful as we all made them sound (even A Pal for Gary has a few redeeming quips despite Spongebob's uncharacteristic behavior). Moreso, fans have been giving a lot of praise to the Post-Sequel seasons, a few even claiming them better than the original classics!
BUUUUT I'm getting off-track. Spongebob is an interesting show that is constantly changing, producing many diverse viewpoints. It has MANY ups and downs throughout, and each episode is special for its own reasons. There is a whole lot I want to talk about regarding this show, but to start off simply, let's go ahead and get some of the easy topics out of the way. While I do think Spongebob has gotten better over the years, it has definitely suffered a period of mediocrity at one point, producing quite a few stinkers.
Today, I am going to be talking about what I personally deem to be the worst episodes of the series. If you happen to like any of these episodes for any reason, just know that I respect your opinion and actually enjoy hearing from people with differing opinions. So if you have any thoughts, speak up. Out of everything on this list, I only truly hate 3 of the episodes on here, and even those, I can still watch without a problem. These are mostly just episodes that I tend to avoid when looking for something to watch that day.
Kicking off the list, we have…
#10. Squirrel Jelly
(Season 11, Episode 241a)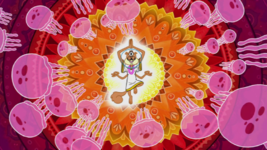 When I first revisited Spongebob, not only did I rewatch a few older episodes (especially for this list), I decided to dedicate part of my journey to catching up on the new episodes. Namely, the second half of Season 9 until now. I'm not gonna lie, as much as I've been hearing how much better Spongebob had gotten, I had been a tad skeptical at first. The plots became a LOT more random than before, sometimes feeling a bit TOO random without coming up with anything witty. And while I appreciate the animation getting more expressive, it takes a while to get used to all your characters making these crazy, stretched out faces every 10 seconds, which starts to make it seem a bit too Ren and Stimpy. Not that I don't love Ren and Stimpy, but even during the Mid-Seasons (5-8), Spongebob always had a slightly more chill tone to it, even during its quirkier episodes. When I finish rewatching the show in its entirety, my perspective might change, but this is how I feel right now, just coming back to this show.
I will say that after watching more episodes, however, I've come to appreciate Modern Spongebob a lot more than I did initially. The plots have gotten truly surreal. That I still can't deny. But for the most part, a good chunk of them do make some lick of sense, and those that don't, I've come to take with a pinch of salt. Sometimes, a little blatant silliness is okay (The String, for example, is probably one of my favorite Modern episodes). And after some deep thinking, while the characters do still retain some of their more dislikeable qualities, the staff has definitely put more effort into making them feel more genuine, and they've even been giving some much needed screen-time to characters we don't see too often (Sandy, Pearl, Karen).
Overall, I will fully admit that spinoffs aside, Spongebob has gotten better in the later years, even if it is kind of "Simpsoning out". Of course, like any long-running show, it's still bound to have a few duds. This one I didn't see until much more recently, but it is a pretty good example of why I wasn't entirely fond of where Spongebob was going at first. It's one of the few episodes of the show where Sandy becomes a little bit unlikeable, to say the least.
This episode starts off with Spongebob, Patrick, and Sandy playing basketball, and Spongebob and Patrick have been dribbling for… ten whole minutes! Now, I can understand Sandy's frustration when she finally makes a makeshift ball of her own, and goes on with her turn. I mean, after ten minutes, come on!
Spongebob and Patrick:
Dribble, dribble, dribble!
Anyways, they start doing other activities, and this is where Sandy starts to become reckless. You see, she goes on an insane power trip as she ruthlessly beats Spongebob, Patrick, and everyone else nearby in competitions. She acts a lot like she does in Pre-Hibernation Week, except back then, Sandy acted so brutal because she's was desperate to make the most of her week before having to hibernate (sleep through the whole winter).
In that episode, there was a reason for her seemingly uncharacteristic behavior, and it was actually rather creative in reminding us that while she has many human qualities, at her core, she is still technically a squirrel. So of course, knowing how sporty and motivated Sandy is already, it makes sense that she'd go in a bit of a frenzy at this particular time. Here, her intensity doesn't quite feel right because not only is there no explanation for this whatsoever, it's played off as if this is just how Sandy normally acts. If you've never seen Sandy Cheeks before and this was the first episode you ever saw, you would get a completely wrong idea of the kind of person she is!
In this episode's defense, it does seem to try and relate to more competitive people who do have the problem of getting a bit too into the game, which is why it's not a bad idea to have Sandy act this way, necessarily. The problem is her reaction to the consequences caused by her mayhem.
Spongebob and Patrick are getting stressed out, so they try and hide out in Jellyfish Fields. Of course, she finds them there and tries to join in. While initially making an effort to play a little nicer, she ends up getting tired and decides to play by her own rules, but not before feeding the Jellyfish some Frankenstein fish food, which beef them up and even equip them with buzz saws. Buzz saws! And then she proceeds to wrangle and trap them mercilessly while simultaneously lighting a blazing trail with her high-powered rocket boots, causing a wildfire in Jellyfish Fields.
After all that, she starts to come to her senses, and yet, doesn't seem to be all that concerned by the damage she's done. She starts to feel as if maybe she's going a little too far, and actually does make an effort to be less violent, but the horrific chaos she inflicted (which looks devastating) is merely brushed off, as she decides to just go back to the Tree Dome to become a pacifist monk, and swear off violence forever, even as Spongebob and Patrick end up running to her, being chased by a giant amalgam of all the pissed-off Jellyfish come together.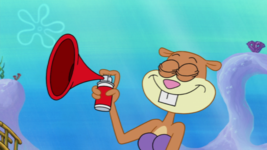 "Turns out, I'm the greatest at relaxin', too." (And running away from your problems!)
From here, it goes the route of cartoon plots that have a normally violent character going complete pacifist before turning back into their normal violent selves again. Sandy tries to find pacifist ways to defeat the monster Jellyfish. She finds that doesn't work. So she then decides to just fight it, launching herself into its core, beating it up from the inside out until it disperses. And while Sandy seems to have learned her lesson at first, a Jellyfish stings her as she's trying to pet it, so she chases after it. She may be a hothead, but it's okay, because somehow, Jellyfish Fields is miraculously full of life by the end, so they don't even need to fix anything!
Yeah… Sandy never really learns her lesson and doesn't really do anything about the destruction she caused. I feel like there could've been much more emphasis on how over-competitiveness can end up being dangerous, but it was handled too quickly and haphazardly, for we all know a field would NOT be able to recover from a wildfire in that short of a time!
There are a few funny moments in this episode, however, like how Spongebob and Patrick are having an argument about which activity to do (even when both of them are wanting the same thing), and the end, where Patrick asks "Which one is Sandy again?" before smirking, as if to show that for once, he's just joking. Also, after the big fight, where we see all the newly calmed Jellyfish in the background, No Name from Jellyfish Hunter can be found!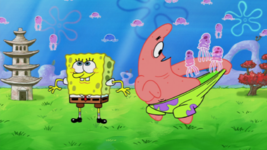 A lot of Modern Spongebob episodes seem to make a lot of reference to the classic seasons to try and appeal to older fans. While I feel that sometimes, it might be a little bit forced for the nostalgic appeal (My Leg! was okay, but it felt empty for that reason), I will always appreciate Easter Eggs such as this.
This one is not terrible, but definitely poor. I feel like with its extended runtime (about 15 instead of 11 minutes), it could've fixed its problems a lot easier. I will say, there is one Modern episode I actually dislike more than this, but that one will be saved for a bit later. It's… interesting, to say the least.