Joined

May 11, 2018
Messages

302
Likes

281
Location
This list is designed to be different from other "old spongebob is better than new spongebob" lists. It will focus more on smaller aspects and tiny details that I've noticed as an avid watcher and obsessed fan of SpongeBob SquarePants. I will update this list regularly:
SpongeBob's scream: SpongeBob had a very distinct scream in earlier seasons, notably season 1 (e.g., Jellyfish Jam). It sounded like it was produced from the back of the throat, and I've heard it been described as "girly". Nowadays his scream is very average. Average and loud. It definitely lacks the uniqueness of those early SpongeBob screams. I heard that apparently Tom Kenny is unable to scream like that anymore, simply because after a while, certain things become harder for him to do with his voice.
SpongeBob's legs: I noticed that SpongeBob's legs are MUCH thinner in the earlier seasons. His legs resemble toothpicks, but later than gain some girth.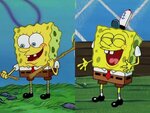 SpongeBob's eyebrows: SpongeBob has a serious case of the eyebrows in earlier seasons. Usually it's very subtle and easy to miss, but he occasionally possesses two black brows.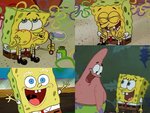 Last edited: