Well-Known Member
1,525 posts
$1,194 doubloons
Wanda, Cosmo, Spongebob & timmy, (Timmy and his faires are drawn in spongebob's art)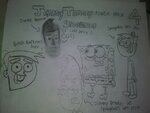 Ignore the horrendous attempt at me trying to draw Jimmy Neutron in CGI (Timmy with his normal Butch Hartman style left,
Timmy with a United Plankton Pictures style on the right). Jimmy is also shown in Spongebob's art style.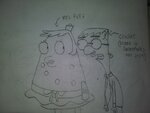 These are my rough ideas for my fan-fiction of a Jimmy-Timmy Spongebob crossover). Which is obviously based on the Jimmy Timmy power hour specials nick did in the mid-2000's. Now for those of you who are too young to remember, in these crossovers, Jimmy Neutron and Timmy would alternate art styles each time they were in the corresponding show. (Timmy becoming CGI in Jimmy's world, and vice versa). So I tried my hand at what The Fairly OddParents and Jimmy Neutron (More drawings coming), would look like if there were another sequel of the saga, and spongebob joined. Thus having these characters drawn in Spongebob's art style.