Joined

Jul 12, 2014
Messages

1,701
Likes

723
Location
Anyone notice how season 2-3 look way more different from season 5, than season 5 does from season 12:
This is what a typical season 2-3 episode would look like:
Here's what a typical season 5 episode looks like: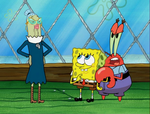 Here's season 12:
Weird. "Sailor Mouth" and "Banned in Bikini Bottom" are only six years apart, and they look like they were animated by two completely different studios. But "Banned in Bikini Bottom" and "Breakin', are 12 years apart, and they still look very simular (Same color palate, similar line thickness), the only difference is the fact that S12 is in HD. Isn't it weird how the early post-movie seasons look a lot more like modern Spongebob than pre-movie. I've heard somewhere that season 2-3 were animated using different software, which is why the show's animation hasn't really changed much since season 5 or so (With the exception of some ugly-looking season 6 episodes).