Joined

Apr 29, 2020
Messages

37
Likes

5
So people seemed to have liked my top 20 so lets get the worst out of the way. Spongebob does have a lot of bad episodes and these are my least favorites. For the record this may be important for the list I'll show my rating system

Spongey 9/10 9.5/10 10/10
Good. Ratings 8.5/10 8/10 7.5/10 7/10
Mediocre 6.5/10 6/10 5.5/10 5/10
Poor 4.5/10 4/10
Dreadful 3.5/10 3/10
Scumbob 2.5/10 2/10 1.5/10 1/10.

I didn't use this in the top 20 since I feel it's kinda obvious what each one was over there. Here some will be dreadful and Scumbob are for my absolute least favorites. And lastly just my silly opinion so enjoy the list. And Post Movie and Pre Movie obviously both apply so be prepared for a shocker or two
#20

20000 Patties Under The Sea. Dreadful 3/10
This episode may not be very hated or even hated at all in the Spongebob fan community but I always disliked this one and let me explain why. This is one episode that's biggest crime is just wasting your time, right from the start I feel this episode didn't have as much care. For those who don't know the first shot was animation reused from Jellyfishing. This may not be a big issue but to me it shows how this one was very lazily put together, another scene later in the episode has Plankton speak and his mouth movements are completely off from the words he's saying. The episode is about Spongebob and Patrick taking The Krusty Krab on the road and getting trapped in an abyss, the episode opens with a series of unfunny gags, "Rober" "Rober" "Ringo" to me this is annoying because about 2 seconds later, Patrick asks "I wonder if you can order Pizza with this thing" Also one thing that bugs me is how it seems Spongebob is afraid of the Jellyfish in the opening, why?. On the bright side "Spongebob your going to have to speak up, my eardrums aren't what they used to be" that line made me chuckle. As did the jokes about Squidward sunbathing and Patrick saying "we" did make me laugh. Next inside the submarine is pretty dull, which is really how I would describe this episode. Next up another line that really bothers me "At least it's better than salty old eatery The Chum Bucket across the street, and that's our only competition" when was The Chum Bucket competition?. another failed joke, Squidward suggests bringing The Krusty Krab to the customers Mr Krabs tells him to quiet and then "We could bring The Krusty Krab to the customers" the entire show has jokes like this and I never found it funny because its such a predictable joke. "Bye, Squidward, Bye Mr Krabs. Bye Squidward" That joke is another one that just falls flat on it's face, it's not funny and has a side of Spongebob I hate, his obsessive side but we will get onto that a little later. What follows is a pretty boring scene where they get conned from the Chocolate With Nuts salesman which isn't one of my favorite episodes so its yet another moment that just falls flat for me. The roasting scene is next where I see why many would find this scene funny but to me I just don't. This is odd, Squirrel Jokes one of my favorite episodes does Insult Comedy very well I think but here it just doesn't amuse me. Plankton sees a kid and he is stupid "Raspberry" "Blueberry" "Raspberry" this episode has a few jokes like that. Plankton roasts some people and although I don't find it that funny I will give the episode points for trying some comedy here. So Plankton gets hurled with rocks and Spongebob and Patrick are driving by, they run out of rocks and what do ya know Spongebob and Patrick who burned the patties that are now similar to rocks pull up. The episode then pulls another one of those jokes however I do forgive this one a bit more. "What's an abyss" "An abyss is a bottomless cazam" in this jokes defense Spongebob wasn't driving so I don't really have a problem with it, it just falls flat. Soon a big monster voiced by Gene Simmons appears and I just find him a rather bland character. Also one small issue most of Plankton's jokes have an extra bit at the end. "Turn, his turn" and "Drasticer-is". Spongebob and Patrick get bombed with Chum Charges and another lazy joke "Our holes been breeched do you know what means," "No" "Neither do I" I honestly think this episode if it had a laugh track would fit very well because a lot of the jokes really feel like someone should be laughing after it. So the "Losquid" quote comes and then a boring montage of them making sandwiches comes which doesn't last long to give credit. So Plankton comes and the monster after he falls down a hill and gets covered in mud thinks he is a desert. So then the episode ends on a kinda weak punchline, they drop all of the money they earned for "Decorative deep sea rocks". I didn't mention this much in the review but aside from having a lot of jokes that fall flat this episode is extremely boring. Most of it is just very dull and uninteresting with little highlights and some odd animation mistakes. For this reason it starts off the list. This review was kinda long because I know lots of people like this one so I tried justifying myself a bit more.
#19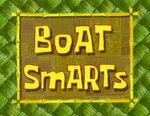 Boat Smarts. Dreadful 3/10
Season 5 is a very weird season. It has some of favorites and some of my least favorites in the shows life and this is another stinker. The first main issue this is a rehash of the educational video format previously used in Krusty Krab Training Video. I don't think that it is that bad but it automatically loses the episode points for being a rehash, secondly it is an example of episode that treats character in the right wrong. Squidward is being a safe driver and Spongebob being a wreckless ignorant buffoon. It of course punishes Squidward and nothing happens Spongebob, a very bad trope in this series is when this happens regardless of who the characters are. Squidward gets tire air in the face which isn't that bad, smashed out of his chair and into spike truck, crashes into a brick wall and then him and Mrs Puff crash. That doesn't mention all the crashes he causes, I know in episodes like Hall Monitor causes lots of destruction however there I feel he was only trying to be a good Hall Monitor and although yes he wasn't even supposed to really be doing anything he at least got in trouble for it. The ending line "Looks like you forgot your Boat Smarts" is just the nail in the coffin. This is one of those episodes where I didn't laugh once and was just frustrated through out the whole episode. Also for being 4 minutes its a long 4 minutes, that's probably because I really dislike this one and I'm sure if you like it it's a breeze but for me I really dislike this one. As I said Spongebob is just ignorant and wreckless in this one with basically no cares in the world and absolutely no care for his surroundings. For all these reasons it earns the #19 spot on my personal least favorites
#18

Keep Bikini Bottom Beautiful Scumbob 2.5/10.
This episode did not start 2010's era Spongebob well. This episode is one of the most annoying and frustrating episodes I ever watched. Before we even begin that cop character. Oh My Lord, he is the biggest jerk ever. First Squidward is picking up trash Squilliam drops a hanky and he gets a ticket, why?. I don't mean because he saw Squilliam do it he was off screen so I'll give that a pass. Wouldn't he just think that it's just simply more trash, If I was a cop I walked by someone doing commuinity service and there's a small bit more trash I wouldn't bat an eye. Besides from that this episode treats Squidward terribly. As soon as it starts and he states "another beautiful Sunday in Bikini Bottom, nothing can ruin my good mood today" You just know it's over for SquidwardHe gets community service for what you may ask, he gets caught in some gum and is trapped and throwing it away back away. Also that cop eating chewing gum from the ground is kinda nasty. So Squidward gets his penalty and when he is done cleaning some random guy just for no reason gives him his trash to clean up. So Squilliam randomly shows up and they reintroduce him for some reason "Squilliam Fancyson my arch foe from Band Class" this reintroduction is pointless but whatever, so Squilliam reveals they built of Squilliam for cleaning up Bikini Bottom in 1 week, he is missing his unibrow which I don't know how they managed to forget since it is a very Iconic part of Squilliam's design but whatever. So Squidward continues and needs a way to get rid of his trash but then decides to transport it using a wagon that he steals from a kid, to give the episode credit if the cop had of came here I feel it would have been justified since well he did actually do something wrong but no. So some old lady comes out and shouts "hey everyone it's trash day" despite Squidward stating that in fact is not trash day of course no one listens and he ends up with a massive pile of trash and somehow Spongebob ends up in the trash bag and then Spongebob bugs Squidward and is generally pretty annoying. So Squidward gets punished for stealing the wagon which is the one part that I find forgivable. So she steals the wagon back and dumps it on the road AND GUESS WHO? Mr Cop Guy shows up and guess what he does, give Squidward yet another ticket. So Squidward lets Spongebob help and then Spongebob gets rid of the trash to guess where, Squidward's house. and because funny he doesnt notice when he drinks trash tea or eats trash toast, or takes a trash shower. Not until he goes to bed does he notice, which I find just beyond lazy writing. And then Mr Cop Guy gives him a ticket it falls on the ground and then he comes back for another ticket. Here I honestly gave up first time watching, this episode is so harsh to Squidward for almost no reason, the kid's wagon as I said I can see why the mom would be angry but aside from that this episode just treats him like dirt. In credit the vein "I am angry" is pretty funny. So Spongebob absorbs all the trash and looks pretty nasty, "Of all the garbage that comes out of your mouth, this is the least annoying". Again that line was kinda funny and then OMG Spongebob spills a small piece of trash AND THE COP COMES BACK AND GIVES SQUIDWARD ANOTHER TICKET. I wrote that it caps because I was getting so annoyed watching this. So then Spongebob spills more trash and the cop is about to write another ticket BUT THEN, Squidward puts Spongebob in a trash can. So hooray Squidward is saved, then Mr Cop comes back and asks Squidward "Are you Spongebob Sqaurepants" "Neptune's No" It then shows us property of Spongebob Squarepants, which when he first carried it wasn't there but whatever. So he gets a ticket for putting his trash in someone else's bin which I didn't even know was an offence, in fact I still don't know someone comment below let me know because I don't think it is, So Squidward is depressed and upset and then Spongebob builts a Squidward statue out of trash which credit to Spongebob was out of the goodness of his heart. So Squilliam returns and the stench of the trash statue destroys Squilliam's statue. Mr Cop comes and gives Squilliam a ticket and then Squidward and Spongebob both get tickets because a can falls on the floor ending the episode. This episode would have been higher if it wern't for those minor funny jokes and also although Spongebob is very annoying, he is at least trying so that's at least something.

Hint for next 3 episodes,

#17 Photoshoot
#16 Episode's title said numerous times
#15 Crossword